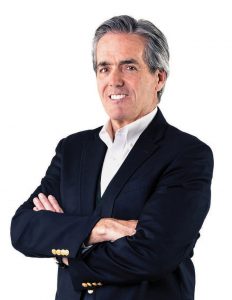 Glenn O'Farrell studied economics, law, business and corporate governance at St. Francis Xavier University, Université Laval, Johnson School of Management, Cornell University, and at Rotman School of Management, University of Toronto. He is a member of the Québec Bar and Institute of Corporate Directors.  Glenn is currently completing a Masters Certificate in Analytics for Leaders from the Schulich School of Business, York University.
Glenn is a business development innovator with a proven track-record. He has extensive knowledge and expertise in business management, strategic reorganization, agreement negotiation, digital solutions and media relations. He is a frequent keynote speaker, panelist and contributing thought leader on digital media in Canada, the U.S., Mexico, Europe, China and Africa.
From 2010 until 2019, Glenn held the position of CEO of Groupe Média TFO. He served as Vice-President, Réseau Pathonic TVA, Québec City; General Counsel, Chief Regulatory Officer, Senior Vice-President at CanWest Global; President of Global Québec, Montréal, and President  & CEO of the Canadian Association of Broadcasters.
In addition, Glenn has also served on numerous company boards of directors as well as not-for-profit Corporations, including the Board of Directors of the Université de l'Ontario français, the Vanier Institute of the Family, TV5 Québec-Canada, Canal Savoir, the National Theatre School of Canada and Ashbury College, the Canadian Association of Broadcasters, the Fondation de Centre Hospitalier de l'Université Laval (CHUL), the Jeffrey Hale Fondation and the Théâtre du Bois-de-Coulonge.